HostGator Review, Is it a Good Web Hosting Provider?
Are you looking for the best and most reliable web hosting provider? if yes, then this post is for you. In this post, I am doing the HostGator review. By going through this detailed review you are able to understand every aspect of this web hosting.
Hostgator is one of the best and most reliable web hosting providers. They are very much reliable in providing excellent web hosting services at very affordable costs.
Introduction
I think you are all probably familiar with the Hostgator. It is one of the oldest and biggest players in the web hosting industry and has millions of websites hosted with them. You can see their references all around the web. Previously they are well known for their shared hosting services. However, after being acquired by the EIG group we have seen some downgrade in their hosting performance.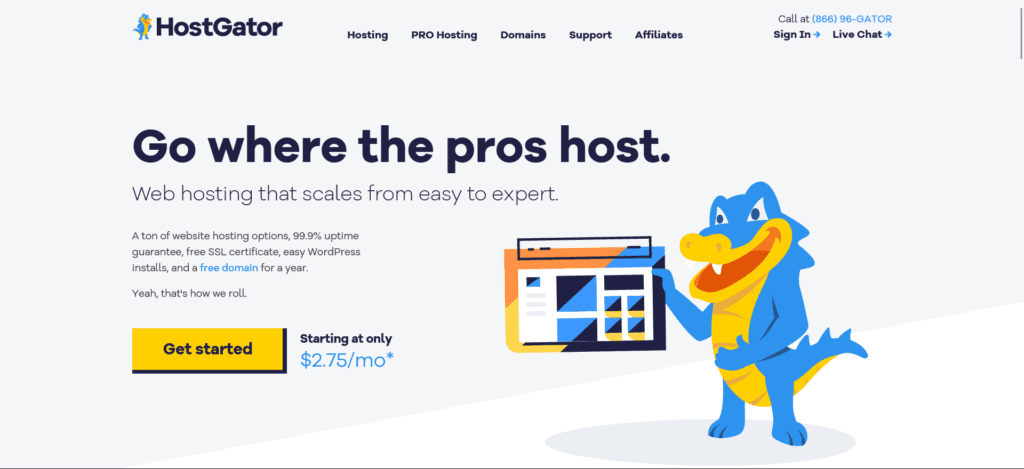 Many users have started to send negative user experiences with them. But besides ups and down they have launched managed WordPress hosting for WordPress users to start and grow their blog. This hosting segment is specially designed by keeping WordPress in mind. Let's check out some of its features and benefits.
Features and benefits
Hostgator shared hosting comes with some awesome features to skyrocket your blog. Let's check out some of the features that they provide with every managed WordPress plans
1. SSD Space
All of their managed WordPress hosting plans is comes with SSD space. SSD stands for Solid State Drive. It works much faster than the normal hard disk. Sites or blogs hosted on SSD have great performance and good page loading speed.
2. Free Website Transfer
Transferring your website to another host is a very technical and time-consuming job. They provide you with free website transfer on all of their managed hosting plans. All you need is to contact their support team and they will transfer your website at no cost to you and also with Zero downtime.
3. Free SSL certificates
SSL is very necessary these days. If you don't have SSL on your blog then it is quite hard to run a blog or any other online business. Today almost every browser is sending warning messages to users who are opening a non-HTTPS website. Even Google does consider it their ranking factor.
4. Free website backup and restoration
You will get free website backups and restoration services with their managed WordPress plan. They will back up your website on a daily basis. If you have any issues with your website then you can restore your website to some previous dates.
5. Automatic malware Remover
Hostgator is good when it comes to security. With their managed WordPress plan you will get free Codeguard security. It will protect your blog from malware and hacking attempts. You will also get DDOS Protection for your Blog.
So, these are some of the common features that you will get with every Managed WordPress plan. Now let's talk about the pricing.
Pricing
Hostgator is currently providing free 3 plans on their managed WordPress hosting. Let's check them out one by one.
Starter Plan:
In this plan, you can host up to 1 website. You will get unlimited disk space and bandwidth. This plan can handle up to 100k visitors per month. You also receive a free 1GB backup along with Sitelock and code guard security. Free SSL security, Free Domain name.
This is an ideal plan to start and grow your blog without any issues. You can get this plan for just $5.95 per month.
Standard Plan:
This is a great plan for growing and establishing blogs. It allows you to host 2 WordPress blogs. You will get unlimited Space Free SSL and 2GB of backups. This plan can handle up to 200K visitors per month. Free Domain Name, Sitelock, and Codeguard Security. You can avail of this plan for just $7.95 per month. Sign up yearly or for a more time period to get maximum discounts.
Business Plan:
This is an ideal plan for large websites that have huge content and visitors. In this plan, you are allowed to host 3 websites. This plan can handle up to 500k visitors per month. It also comes with unlimited Disk space, free domain name, SSL certificates, 3Gb backups, and all features that come in its previous plan.
This plan also comes with maximum computing power and hence gives you awesome speed. You can buy this plan for $9.95 per month. Pay yearly or more to get 57% off.
Customer support Services
Hostgator comes with excellent customer support service. Their support team is available 24/7, and 7 days a week. They have talented WordPress professionals to answer your all WordPress-related queries and solve them in a timely and responsive way.
You can also create support tickets from your account and response time is pretty fast.
Performance
There is no doubt that Hostgator has improved its performance and uptime with its reliable hosting. All of their hosting services are on the cloud server. If you check the screenshot below, you will see that they have to provide some decent uptime of almost 100%. Which is pretty decent.
HostGator Cloud's uptime and page speeds have really blown their shared server performance.
Pros
Reliable hosting: HostGator guarantees an uptime of 99.99%. If you experience downtime below that, then you will get back one month's of credit on your account.
Moneyback Guarantee: HostGator provides 45 days moneyback guarantee. Generally, web hosting companies do not offer a moneyback guarantee beyond 30 days.
Flexible billing periods: You can choose between monthly and yearly billing periods. Longer billing periods will get you a decent discount.
Free migration: HostGator offers a free migration service with all new accounts. Their expert team will transfer your website from your previous host at no extra cost during the first 30 days of signing up.
Cons
Higher Renewal pricing is quite higher than the introductory plans. You can avail lower HostGator pricing by choosing the annual plans as they do offer a 45-day moneyback guarantee.
Aggressive upselling: You may see additional services like automated backups and advanced functionality automatically added to cart when you buy hosting. Make sure you have unchecked if you don't need them right away. You can always add them later when needed.
Conclusion
After reading all the benefits and features, I can say that Hostgator hosting is a great choice for you. Since many web hosting company has increased its pricing heavily. You can alternatively go with Hostgator for excellent performance and service which they offer at very affordable pricing. If you like the post, don't forget to share it with others.